Gascony is vaguely defined; most definitions put Gascony east and south of Bordeaux. It is currently administratively divided between the Aquitaine région and the Midi-Pyrénées region.
This is the land of d'Artagnan, who inspired Alexandre Dumas's character in The Three Musketeers. It is also home to the hero of the play Cyrano de Bergerac and to Henry III of Navarre who later became King of France as Henry IV.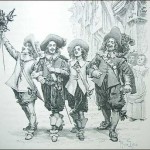 The town dates from X century and has had a privileged geographic position on the hill, perfect to defend. The village of Montesquiou is the historical seat of the Gascogne family Montesquiou-Fezensac. The House of Montesquiou is one of oldest aristocratic families in Europe. Christie The Barons de Montesquiou descend from the Counts de Fezensac, themselves descendants of Garsie Sanche (886-920), Duke of Gascony. Montesquious are  closely related to the other branches of the bigger family, such as the families of Armagnac, of Marsan, and d'Artagnan.  The history of Montesquiou appeared during the Middle Ages and continued during Renaissance period, the reign of Louis XIII, then during D'Artagnan and the Three Musketeers. During the French Revolution, the castle built by the Montesquiou family in the 12th century has been sold, then broken down in order to sell back material to build new infrastructures (paths) that today support village gardens.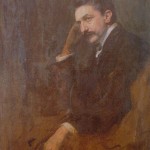 Eventually, the very name of Fezensac was renewed by Louis XVI in 1777 to be carried by the head of the house, which was then, as is now, represented by Montesquiou family. Since that time the main line of the Montesquiou became known as Montesquiou-Fezensac.The main branches of Montesquiou-Fezensac and d'Artagnan merged in the early twentieth century. Throughout centuries, this family produced notable military leaders, ecclesiastics, as well as particularly notable men of letters.
In the Middle Ages period, Lords donated to the village. These donations contributed to the settlement of religious communities around Montesquiou and their enrichment . Montesquiou is on the famous Saint Jacques de Compostelle pilgrimage road (Tolosane path) where Saint Augustine brothers built a hospital at the middle of the 12th century. Pilgrims are frequent visitors in the village.
The village has two distinct parts:
Castelnau where the castle once stood
"Barri" – suburbs of the castle.
 Vestiges of the history of Montesquiou include:
the fortified gate in the west rampart
the donjon and the bell tower built in the 12th and the 13th centuries
Saint Martin Roman Church built in the 12th century, then restored in the 16th, 18th and the 19th centuries.
restored private properties, such as the "Château de Bière" which was reconstructed in the middle of the 17th century, "la Tour de la Mothe" and several others.